Chris Marsh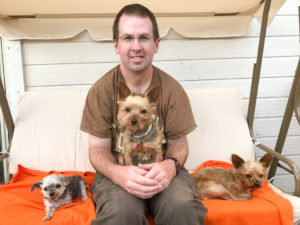 Growing up my family always had cats, we adopted Mittens and Sawdust when I was about 4.  Sawdust passed away when I was in college and Mittens when I was 24.  Mittens & Sawdust showed me the beauty of unconditional love from a pet and made a huge impact on my childhood.  When I met my wife she had just adopted 2 crazy Yorkshire terriers named Freddie & Precious.  As our relationship grew so too did my love for dogs.  Freddie & Precious both had some serious health battles that exposed me to the wonders of veterinary medicine.  Because of them I started volunteering in the surgery center at the Humane Society and eventually decided to go back to school (at the age of 37) in order to be able to apply for veterinary school.
I am currently taking pre-requisite classes to be able to apply for veterinary school.  I work part time at HPAW and also own a small business.  My wife and I are fortunate to share our lives with a pack of Yorkshire terriers who keep us on our toes.
I am truly grateful to be a part of the team here at Healing Path.  Seeing the special relationships each person has with their animal is a wonderful privilege.  Being able to help those animals live the best life possible is truly rewarding.
Save
Save
Save
Save
Save