Kaley Sherraden
I was THAT kid. I brought home every stray animal that I came across. From cats and dogs to lizards and frogs (my parents spent a great deal of time explaining to me that the reptiles liked it outside and it was their home!). And growing up on a farm in Southwest Kansas, my friends were chickens and cows. So I have known my entire life that I am here to advocate for animals and wanted that to be my career.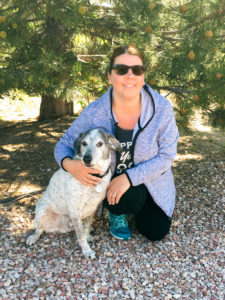 While attending college though my life took a different path. I spent a few years working with children with special needs and 10+ years in the human healthcare field. I loved my work, but I was still volunteering for animal rescues and never lost my desire to work with animals as my profession. It wasn't until I adopted a very sick dog did that desire become reality. Riley's unfortunate illness led me to a profession in veterinary medicine.
I have been a veterinary receptionist for several years now and I love my work. I especially love working at Healing Path! It's a gift knowing that we are helping people and their pets on a daily basis. And, by the way, Riley is happy and thriving today!
I share my home with my husband, son, three dogs, a cat that thinks he's a dog, and a very friendly tortoise. When I'm not working I spend as much time as I can outside. I love walking our dogs, organic gardening, and hiking.
Save
Save
Save