Sharon Cronn, CVT
Sharon Cronn, CVT
My journey with animals and integrative modalities started as a child, but back then I never imagined I would be able to have a career incorporating both. Growing up, I spent my summers on cattle ranches and farms in Northeast Wyoming.  We always had multiple pets at home, but it wasn't until I worked at a vet clinic as a receptionist/assistant that I knew this was my passion and calling.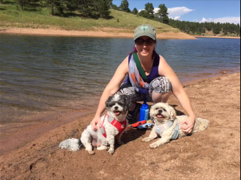 I went back to school and received my certification as a veterinary technician in 2001 and haven't looked back since. When I started in the field, acupuncture was virtually unheard of, let alone any other holistic modality. Finally a veterinarian I was working for became certified in acupuncture.  Since then, I have known and worked with multiple vets who use acupuncture and other modalities on a regular basis, and have seen fabulous results.
About the same time I started working in the veterinary world, there was a terminal illness in my family which lead me to begin learning more about and using holistic modalities including kinesiology, energy work, essential oils and healing touch. I have since incorporated these into not only my own health care, but also those of my pets.  I have also been able to increasingly use them in the clinics I have worked at and so was very excited to be able to become part of the Healing Path team.
I truly believe if we choose to bring animals into our lives, we don't have choice of if we are going to care for them: it becomes an obligation. I have stayed in the field for 13 years to care for the little souls who can't care for themselves and along the way have become a true cat whisperer. This is, without a doubt, the most rewarding career ever.
Save