Dr. Stephanie Patton
In January of 2013, my husband and I moved to northern Colorado Springs and bought a house with some acreage. Our "family" includes horses, goats, cats, and dogs. They are a lot of work, but so worth it!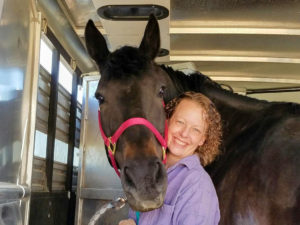 My first exposure to anything outside of conventional medicine was during vet school when my horse Star was diagnosed with severe arthritis in his neck, causing impingement on his spinal cord, which resulted in him struggling to walk and being in significant pain. The clinician overseeing his case recommended euthanasia for the safety of others since he struggled to stay on his feet. A friend of mine recommended having him assessed by a veterinarian that was trained in animal chiropractic care. I had nothing to lose at that point. After Star's first adjustment, he was no longer painful or showing neurologic symptoms, and could be ridden again. He did need to be adjusted about once a month for maintenance, but I was able to ride him for two more years until I had to retire him. I wondered what other modalities were available, including chiropractic care, that could help animals and how many animals were euthanized because no one knew how else, outside of conventional medicine, to treat them. I knew I wanted to be able to offer my clients more options to treat their beloved pets.
When I graduated from veterinary school I went into a conventional practice, but slowly over the years I was introduced to other ways of improving health. I had some health issues that doctors and specialists told me were in my head, but I ended up meeting people who guided in me the right direction with some simple supplements and the symptoms were quickly relieved. The same people gave me more than two wonderful years with my ill dog when no one else had any answers for me!
At this point, I have trained in chiropractic care, acupuncture, herbal medicine and nutritional medicine. I will never stop expanding my knowledge base! I am quite pleased to be able to join Dr. Jennifer part-time in a setting that truly works to make the veterinary experience a positive one for all involved and focuses on healing underlying conditions instead of just treating
symptoms.